Tub and Shower Replacement
Is your tub or shower worn out, damaged and in need of replacement? Or maybe you're just looking to freshen up the look of your bathroom? Whatever your reason, Waukesha Plumbing is your bathtub and shower replacement specialist. In most circumstances we can often remove your old shower or tub and install a new unit all in the same day!
We only work with the best quality units and designs from Kohler to give your bathroom a fresh makeover. All tubs and showers are set in a full 80lb bag of mortar, making the base rock solid. Most of the competition doesn't do this top quality, rock solid installation.
Custom Shower Systems
Waukesha Plumbing specializes in custom shower systems from Kohler: DTV, body sprays and steam showers.
We spend time with homeowners and give expert measurement advice and options on where to place the various valves. A custom shower is an experience. We can install valves, body sprays, rain heads, handhelds in a variety of different ways.
There are many ways to divert water from controlling and thermostatic values for a truly unique and enjoyable shower experience. In addition, adding a tankless water heater just for the shower is the perfect accompaniment for a multiple shower head system.
Tubs
Old fashioned cast iron is becoming popular again. The Kohler Villager is the same top-quality tub they have been making since the 1950's. Or choose the quality Aker fiberglass units.
We also install American Standard walk in tubs. Walk in tubs are very expensive, but American Standard makes the most reasonably priced units while still providing quality. They come in a variety of sizes to fit all needs. Options include: a soaker, whirlpool system, air spa system or combo whirlpool and air, quick drain, inline heater, neck rest, Chromatherapy or grab bar.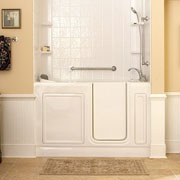 We always recommend using a fiberglass or acrylic base on tile showers. Old fashion tile bases always seem to leak over time, but by using a fiberglass base you can eliminate 90% of the potential that your tile shower will eventually leak.
You can count on Waukesha Plumbing to get the job done right! We use only the best techniques and materials to ensure your new bathtub or shower replacement will make your bathroom feel like new again. Contact Waukesha Plumbing to talk with a bathtub or shower replacement specialist today!
We are full service Master Plumbers covering S.E. Wisconsin using the most updated techniques, and only the highest quality parts and fixtures whether it be for repair or replacement.
Give us a call today for a free quote or to schedule a service or maintenance call.


Or Call (262) 224-8377
Serving Waukesha, Milwaukee, Walworth and Jefferson Counties
Service Areas Include:
Waukesha Plumbing proudly serves Waukesha, Milwaukee, Walworth and Jefferson Counties including:

Satisfaction Guarantee
At Waukesha Plumbing your satisfaction is our #1 goal. We take great pride in doing it correctly the first time, and use only the highest quality parts and procedures so that we may meet or exceed your expectations.
We guarantee our replacement work and repairs for one year, parts and labor included. All call backs are handled as a top priority, which many times can be handled the same day, but always as quickly as possible.