Recirculation Pump Replacement
Recirculation Pumps are essential to distributing hot water instantly to your kitchen and bath faucets.
Are you waiting 5 minutes to get hot water to a bathroom far away from the water heater? It's a common problem with a very simple retro fit solution. It's the Grundfos Comfort System, low voltage pump that is installed above the water heater.
A valve is installed under any sink in the house you wish to recirculate the hot water. The valve lets the hot water bleed into the cold water which recirculates the hot water. The kit comes standard with one valve, but you can add extra valves to any sink in the house. There is a timer on the pump, so you can save energy and only use it during high use times of the day.
We can also put a standard pump in and run a separate reticulation line. With all the positive reviews of the Grundfos Comfort system it's a waste of time and money to run a separate recirculation line anymore.
How the Grundfos Comfort System Works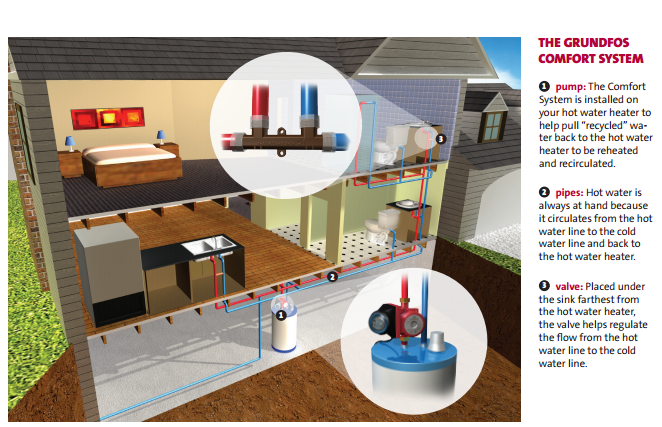 We are full service Master Plumbers covering S.E. Wisconsin using the most updated techniques, and only the highest quality parts and fixtures whether it be for repair or replacement.
Contact Waukesha Plumbing to experience the Grundfos Comfort System in your home!
Or Call (262) 224-8377
Serving Waukesha, Milwaukee, Walworth and Jefferson Counties
Service Areas Include:
Waukesha Plumbing proudly serves Waukesha, Milwaukee, Walworth and Jefferson Counties including:

Satisfaction Guarantee
At Waukesha Plumbing your satisfaction is our #1 goal. We take great pride in doing it correctly the first time, and use only the highest quality parts and procedures so that we may meet or exceed your expectations.
We guarantee our replacement work and repairs for one year, parts and labor included. All call backs are handled as a top priority, which many times can be handled the same day, but always as quickly as possible.