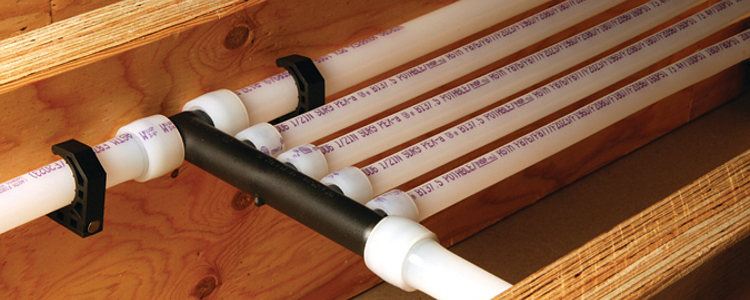 Pipe Repair
Burst/Repair/Re-piping
If you own a home, chances are you will eventually have a pipe leak or burst.
Older homes especially often have issues with leaky pipes. Old galvanized water piping typically lasts 35-50 years and then the leaks start. At Waukesha Plumbing we can repair them section by section, or come in and re-pipe your whole house to PEX.
This is not an area where you want to skimp on quality. Many other plumbers mix and match parts to lower the price, so that in the end while you've gotten a lower cost job, you have no warranty on parts that will cost you more down the line. We don't do that. We use Uponor Propex piping and fittings that come with an included 25 year warranty.
Galvanized or cast iron drains rotten and leaking?
Cast iron/galvanized pipes aren't very smooth inside, and often can clog yearly causing leaks/rot. Using over the counter clog solutions such as Draino can also eventually rot them through. Replacing those pipes with PVC is the perfect solution to make your drains run smooth.PVC is smooth like glass inside and tends not to plug up like galvanized drains do. If your tired of paying someone to snake your drains yearly it may be time to get them re-piped and solve the problem.
Burst pipes
Have an emergency? Give us a call to fix those burst pipes.
Hosebib leaking inside the basement this Spring? It is most likely frozen and burst over the winter. We will come and replace it with a new frost free hosebib by Arrowhead (made in USA).
Contact Waukesha Plumbing for a free estimate to service your pipe leaks, bursts, repair and re-piping!
Or Call (262) 224-8377
Serving Waukesha, Milwaukee, Walworth and Jefferson Counties
Service Areas Include:
Waukesha Plumbing proudly serves Waukesha, Milwaukee, Walworth and Jefferson Counties including:

Satisfaction Guarantee
At Waukesha Plumbing your satisfaction is our #1 goal. We take great pride in doing it correctly the first time, and use only the highest quality parts and procedures so that we may meet or exceed your expectations.
We guarantee our replacement work and repairs for one year, parts and labor included. All call backs are handled as a top priority, which many times can be handled the same day, but always as quickly as possible.