New Home Construction Plumbing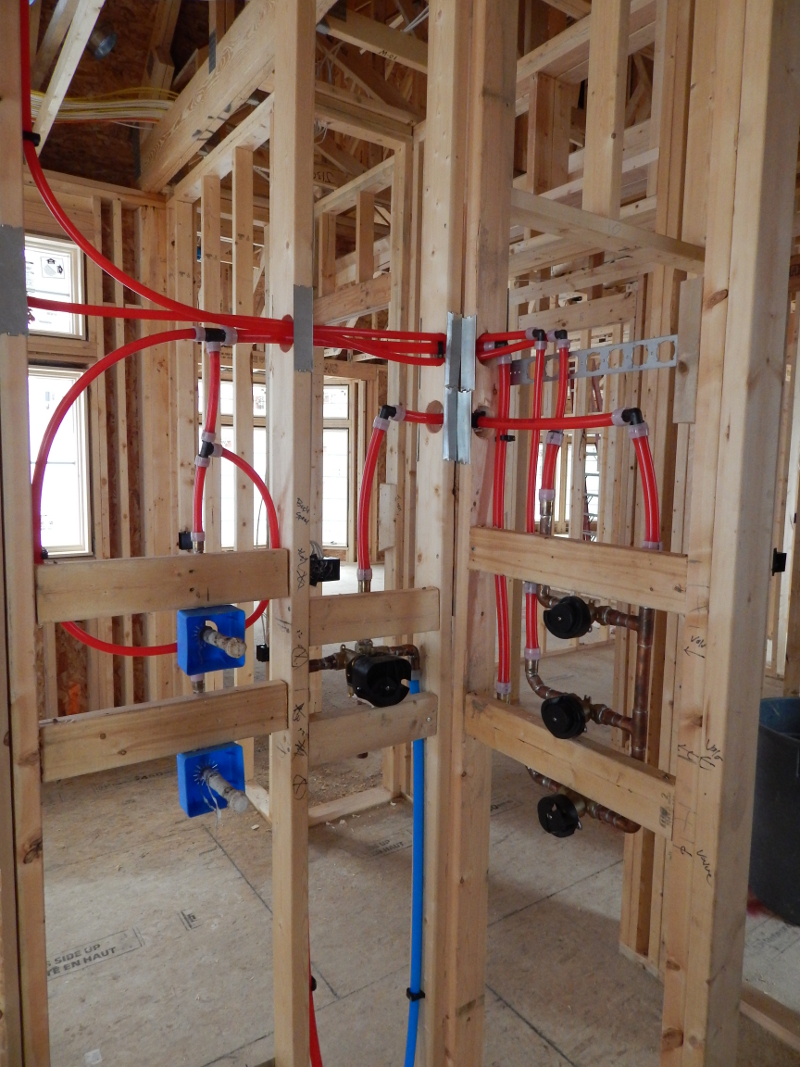 Waukesha Plumbing is your new home construction plumbing expert, with many years of experience and great references.
We take a different approach than most. Instead of looking for the cheapest materials to be the absolute lowest bid, we prefer to look for products of quality that give the best bang for the buck.
The difference is in the details of quality products like solid core PVC, A-grade brand-name Uponor PEX (most use B-grade), mortar under all tubs and showers (almost unheard of on new homes), Rheem or Bradford white water heaters, 3" floor drains and cast-iron sump pumps. We work with pride in doing the job right, and when we're done with a house we're proud of our plumbing work.
If you're looking for the lowest price bid on your new home then Waukesha Plumbing is not for you.
We don't waste your time or overbill. Waukesha Plumbing is ALWAYS the first subcontractor done on all new homes. Most trades over schedule and work a few hours at a time or a day or two a week on a new home. We like to schedule 8-10 hour days and try to work consecutive days. We're typically done in 2-3 days while some other plumbers take 2-3 weeks.
It is not uncommon for the local plumbing inspectors to comment positively about our plumbing work to the new homeowners. It stands out for a reason – professional, high quality plumbing that is uncommon in the new home market.
Contact Waukesha Plumbing to experience quality work in your new home!
Or Call (262) 224-8377
Serving Waukesha, Milwaukee, Walworth and Jefferson Counties
Service Area Includes:
Waukesha Plumbing proudly serves Waukesha, Milwaukee, Walworth and Jefferson Counties including:

Satisfaction Guarantee
At Waukesha Plumbing your satisfaction is our #1 goal. We take great pride in doing it correctly the first time, and use only the highest quality parts and procedures so that we may meet or exceed your expectations.
We guarantee our replacement work and repairs for one year, parts and labor included. All call backs are handled as a top priority, which many times can be handled the same day, but always as quickly as possible.